Passenger traffic growth up 7.9% during November
12 January 2018
Brussels - European airport trade body, ACI EUROPE today releases its air traffic report for November. The report is the only industry report that includes all types of civil aviation passenger flights: full service, low cost and charter. It reveals that during the month of November, passenger traffic at Europe's airports grew by +7.9%, almost exactly at the same pace as in October (+7.8%).
Non-EU airports continued to lead the growth in passenger traffic, with volumes increasing by +11.6%. Georgian airports led the dynamic (+31.8%) - while Iceland, Israel, Turkey, Russia, Ukraine, Belarus, Moldova, Bosnia-Herzegovina, Montenegro and FYROM also saw their airports achieving double digit passenger growth.
Meanwhile, passenger traffic at EU airports grew by +6.8% - a performance which would have been even stronger were it not for a series of airline-caused disruptions. This primarily included the full impact of Air Berlin and Monarch having ceased operations, as evidenced by traffic losses at airports such as Berlin-TXL (-21.1%), Dusseldorf (-9.1%), Vienna (-0.1%), Birmingham (-1.5%) and Copenhagen (-3.5%). It also included Ryanair's decision to slow down its growth this winter by taking 25 aircraft out of its fleet to avoid crew rostering-related flight cancellations.
Passenger growth at the Majors (top 5 European hubs) substantially picked up in November at +10.6% – led by the strong performance of Frankfurt at +21.1%, Istanbul-Atatürk at +15% and Amsterdam-Schiphol at +10.1%. Frankfurt's record monthly growth was partly influenced by last year's Lufthansa pilot strike. Net of the catch up effect, the airport still grew by an impressive +11.8% on the back of significant low cost airline expansion. Paris-CDG grew by +6.6% and capacity constrained London-Heathrow still managed to increase its passenger volume by +3.5%.
Freight traffic across the European airport network remained consistent with the previous month, coming in at +8.6%. Aircraft movements also remained robust at +3.6%.
During November, airports welcoming more than 25 million passengers per year (Group 1), airports welcoming between 10 and 25 million passengers (Group 2), airports welcoming between 5 and 10 million passengers (Group 3) and airports welcoming less than 5 million passengers per year (Group 4) reported an average adjustment +7.3%, +6.9%, +9.5% and +10.5%.
The airports that reported the highest increases in passenger traffic during November are as follows:
GROUP 1: Frankfurt (+21.1%), Palma De Mallorca (+16.4%), Moscow SVO (+16.4%), Istanbul IST (+15%) and Istanbul SAW (+10.7%)
GROUP 2: Ankara (+32%), Tel Aviv (+17.4%), Lisbon (17.3%), Budapest (+16.9%) and Prague (+15.1%)
GROUP 3: Naples (+49.8%), Heraklion (47.2%), Valencia (+26.1%), Palermo (+25.5%) and Keflavik (+19.8%)
GROUP 4: Grenoble (+144.7%), Varna (+89.7%), Kos (+72.8%), Batumi (+69.4%) and Craiova (+54.8%)

The 'ACI EUROPE Airport Traffic Report - November 2017' includes 253 airports in total representing more than 88% of European air passenger traffic.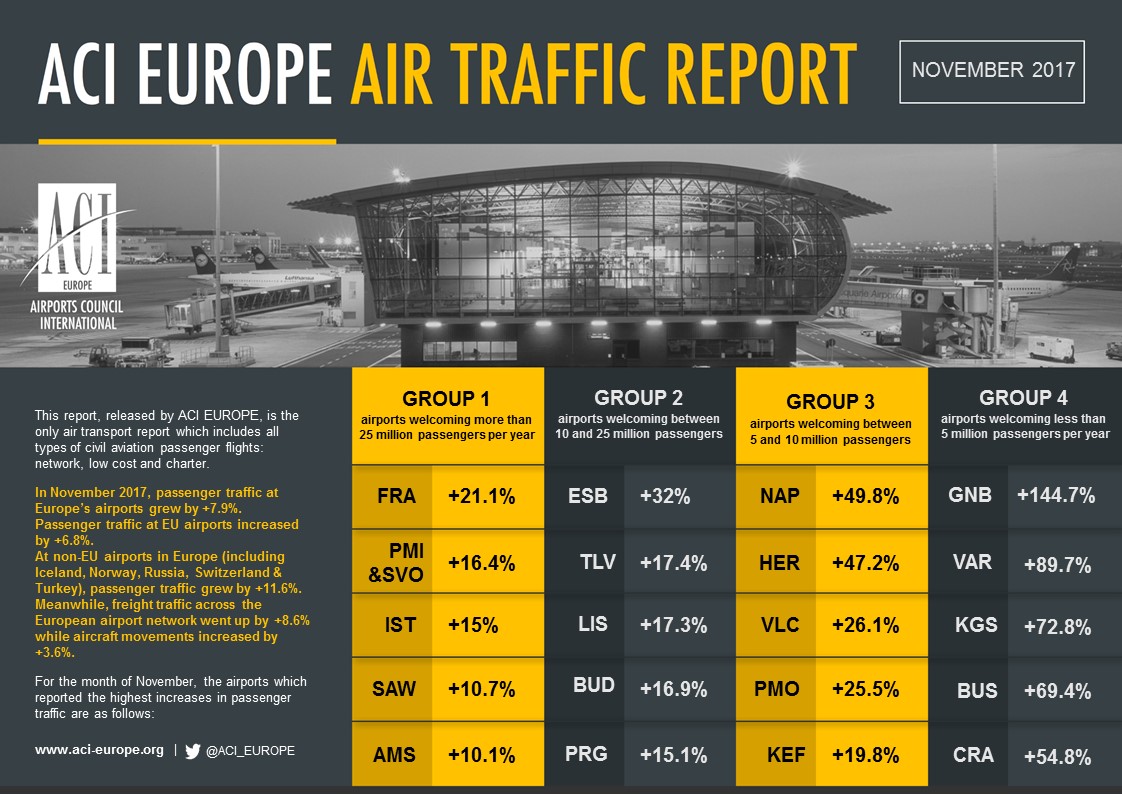 Download