Aviation challenge kicks off at Athens International Airport with SESAR JU
2 December 2019
Athens - A unique 3-day aviation challenge organised jointly by the SESAR Joint Undertaking (JU) and ACI EUROPE kicks off today at Athens International Airport, in the framework of the SESAR Innovation Days1. Themed as the Digital Sky Challenge2, the event brings the young tech community together with key European aviation organisations to stimulate and create innovative digital solutions for aviation.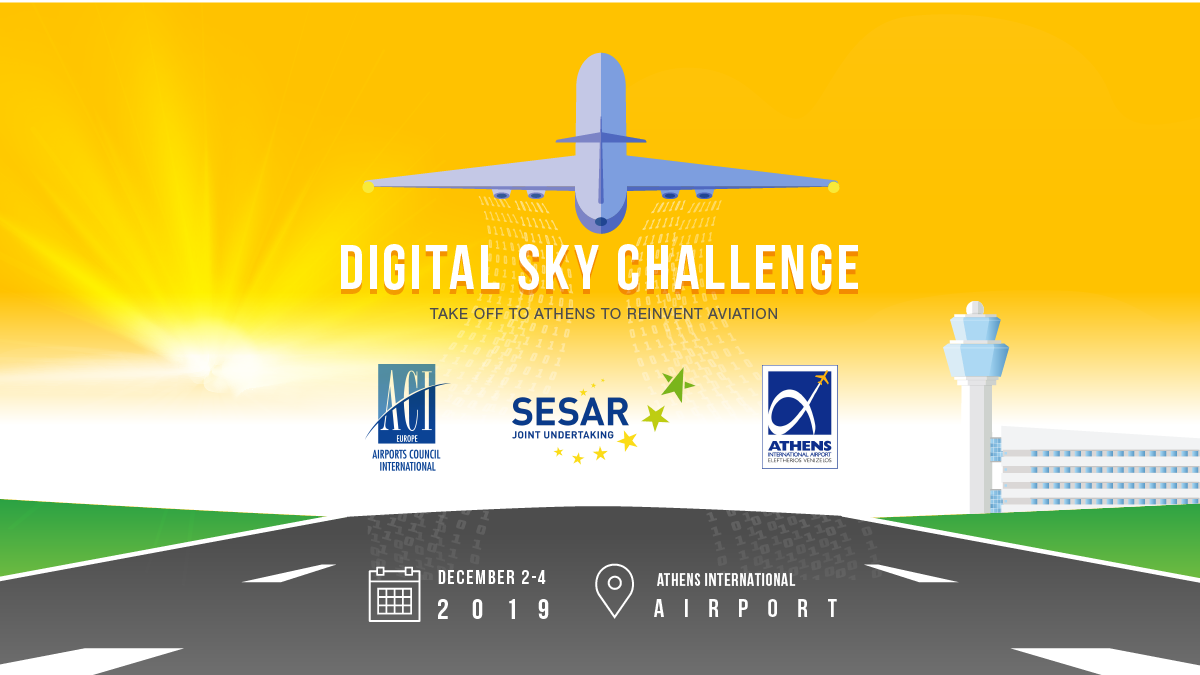 Hosted by Athens International Airport in an airside facility, 52 young software programmers, data scientists and designers from 11 European countries are grouped into 12 teams. Working around the clock for 48 hours, they are competing for 3 different challenges (Passenger Experience, Environment and Safety) focused on streamlining the passenger journey, improving the environmental performance of Europe's airspace and enhancing safety. More specifically, they are seeking to improve the reliability and provision of flight information, analysing the impact of extreme weather events on aircraft CO2 emissions & noise, as well as determining how air traffic patterns can influence safety.
With an extensive dataset at their disposal, the 12 teams are mentored by experts
3
from supporting organisations including Airbus, Air France, Avinor, CANSO, EASA, EUROCONTROL, Frankfurt Airport, Frequentis, Groupe ADP, Honeywell, IATA, Lufthansa, MetSafe and SITA. Other partners are also involved

4

.
The best digital concepts/prototypes developed will be selected by a jury

5

based on their level of innovation, business value, design and overall quality – with the winners announced at the an award ceremony that will take place on 4 December at the Stavros Niarchos Centre in Athens.
Florian Guillermet, Executive Director of SESAR JU concluded: "Digital Sky Challenge reflects the spirit and values that drive the SESAR Joint Undertaking partnership. It shows that through co-creation and collaboration we can spark new ideas and accelerate innovation in aviation. I would like to thank co-organisers ACI EUROPE and Athens International Airport, as well as the aviation partners, teams and jury members for making this a reality."
Olivier Jankovec, Director General of ACI EUROPE said: "The fact that ACI EUROPE is co-organising the Digital Sky Challenge is in itself indicative of how innovation has become embedded in airports' corporate culture. This is about sustainability and competitiveness – and this means breaking operational silos, forging new partnerships and putting the passenger & the environment at the centre of all our processes."
He added: "This event marks another step in our close cooperation with the SESAR JU and I would like warmly thank all participating organisations and of course Athens International Airport for making this possible."
Dr. Yiannis Paraschis, CEO of Athens International Airport said: ''At Athens International Airport we are very proud to be the first to host such an event at an airport site in Europe. A "Digital Sky Challenge" event where key aviation organisations are teaming up, demonstrating how our industry is at the forefront of innovation, creating safe and environmentally sustainable travel solutions to the ultimate benefit of our passengers. Together with our partners, ACI EUROPE and SESAR JU, we wholeheartedly support this unique initiative, which will deliver fresh and innovative propositions by some of Europe's brightest young minds! As we eagerly wait for this unique 48-hour digital sprint, we send a very warm welcome to all our guests and partners, programmers, scientists and their mentors, as they ready up to take off to Athens and reinvent aviation!"
Download