Air connectivity
What is exactly air connectivity? How can it be measured? And how well connected is Europe?
ACI EUROPE - in partnership with SEO Amsterdam Economics - has published Airport Industry Connectivity Report 2021 with the findings documenting the ongoing effects of the COVID-19 crisis on Air Connectivity.
This year's report shows how the recovery is now proceeding, as vaccination within Europe is widespread and epidemiological risks have considerably reduced. However, as we are learning to live with the virus and economies have re-opened, air connectivity is taking time to come back. Its recovery is far from uniform, with significant differences between the lead indexes of air connectivity - direct, indirect and hub connectivity, as well as between geographical markets and segments within the airport industry.
Published yearly since 2014, these reports do not measure passenger volumes but the extent to which Europe's airports and their communities are connected to and accessible from the rest of our continent and the world – using a set of direct, indirect and hub connectivity indexes.
Using the SEO NetScan connectivity model, the report provides indexes for direct, indirect and hub connectivity based on both quantitative and qualitative metrics. The airport connectivity index is made-up of both direct and indirect weekly frequencies, weighted by their quality. This means that this is not simply a measure of how many city pairs there are, or how many direct services there are. For the purposes of this report, connectivity is a composite measure of the number of destinations, the frequency of services and the quality of the connections (in the case of hubbing or indirect services). Let's begin by outlining the various types of air connectivity that airports facilitate. The following 4 definitions describe them and together they provide a qualitative and quantitative picture of how an airport links to the rest of the world.
Types of connectivity
Direct connectivity: These are the direct air services available from the airport – measured not just in terms of destinations, but also factoring in the frequency of flights to the same destination (so for example, an airport with 5 daily flights to another airport, will register a higher score than one with only 4).
Indirect connectivity: This measures the number of places people can fly to, through a connecting flight at hub airports from a particular airport. For example, if you fly from Cork to a hub airport such as Amsterdam Schiphol, that's a direct flight from to A to B. But with the vast choice of onward destinations you can fly to from there – the large number of available onward connections from these airports expands the range of destinations available from the airport of origin. Indirect connections are weighted according to their quality, based on connecting time and detour involved with the indirect routing. For example, a flight from Manchester to Johannesburg via Paris-Charles de Gaulle will register a higher score than an alternative routing via Doha.
Airport connectivity: As the name suggests, this is the most comprehensive metric for airport connectivity – taking into account both direct and indirect connectivity from the airport in question. Airport connectivity is defined as the sum of direct and indirect connectivity – thus measuring the overall level to which an airport is connected to the rest of the World, either by direct flights or indirect connections via other airports.
Hub connectivity: Hub connectivity is the key metric for any hub airport big or smaller. Essentially, it measures the number of connecting flights that can be facilitated by the hub airport in question – taking into account a minimum and maximum connecting time, and weighing the quality of the connections by the detour involved and connecting times.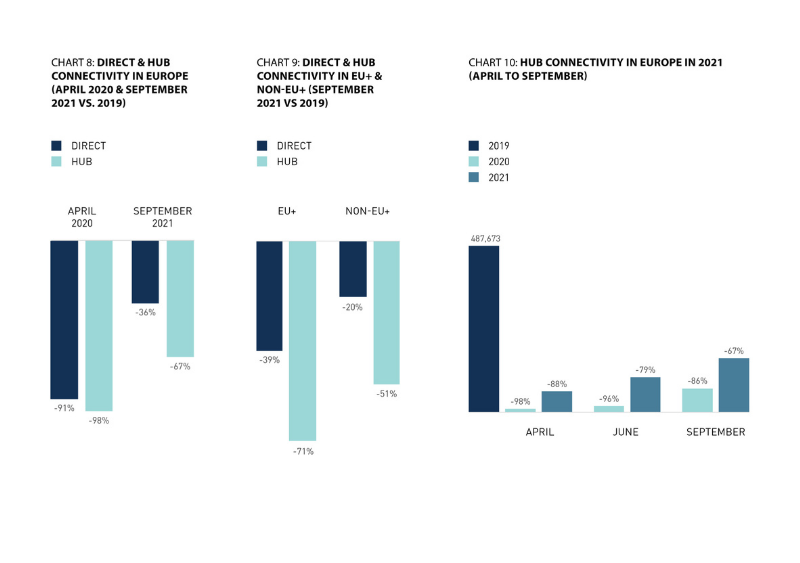 Hub airports bring the virtues of air transport networks. For an airport that has a wave of 10 flights leaving at 9am, one additional flight arriving at 8am increases its hub connectivity score by 10, reflective of the onward connecting options for passengers on that additional arriving flight.
The drastic reduction in air services since the pandemic means that each flight arriving at a hub airport now has much fewer connection options. The absence of real recovery for most intercontinental markets from Europe has continued to penalise hub connectivity in 2021.
This can be seen from the fact that while direct connectivity at European airports is gaining ground and had recovered 64% of its pre-pandemic (2019) level by September, hub connectivity had only recovered 33% of its pre-pandemic (2019) level – with progress this year being slow.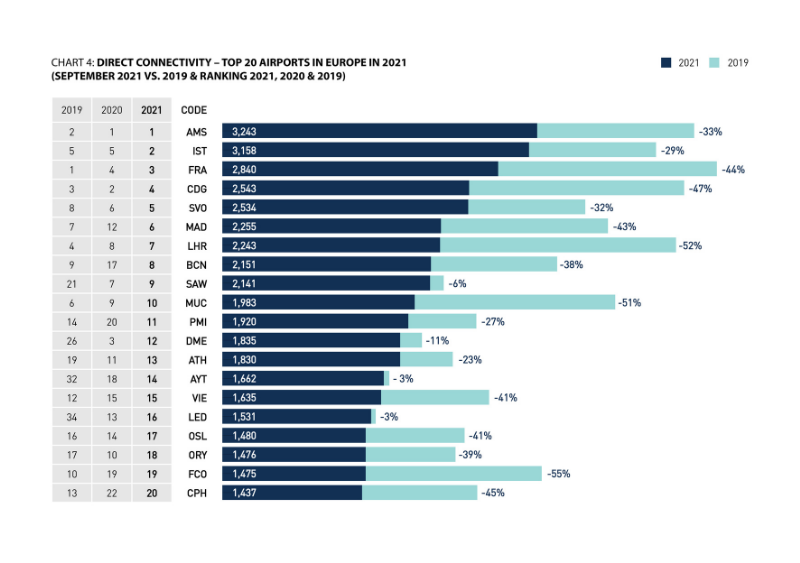 As was the case last year, the global airport ranking in hub connectivity continues to be heavily distorted by the pandemic and the de-facto closure of most intercontinental markets.
North American airports still account for half of the top 20 global hubs. They have generally recovered a significant part of their pre-pandemic (2019) hub connectivity levels - notably Denver (90% of its hub connectivity recovered), Phoenix (72%), Dallas
Forth Worth (69%) and Houston (67%). This reflects their reliance on a vast and largely unconstrained domestic market, which cushioned them from the harsh consequences of cross-border travel restrictions compared to airports in other world regions.

Conversely, European airports still have a long way to go to recover their prepandemic hub connectivity levels - although some have made encouraging progress over the past year.
Frankfurt, which used to top the global ranking for hub connectivity in 2019 has moved up from the 7th to the 3rd position since last year, with 32% of its hub connectivity recovered so far. Istanbul and Amsterdam Schiphol have recovered respectively 56% and 40% of their pre-pandemic (2019) hub connectivity levels – the best performance amongst European hubs.
Also, Madrid and Zurich have re-joined the top 20 global hub connectivity league after dropping of it in 2020.
Progress has been slower for Paris-CDG which has further dropped in the ranking compared to last year and is now in the 10th position, with 31% of its pre-pandemic (2019) hub connectivity recovered.
London-Heathrow and Munich remain in the 18th and 17th position respectively, having recovered only 22% of their pre-pandemic (2019) hub connectivity levels – the lowest amongst European hubs.

Doha is the only Middle Eastern airport included in the top 20 global league this year, with 58% of its pre-pandemic (2019) hub connectivity recovered. No Asian airport features in the 2021 global hub connectivity league.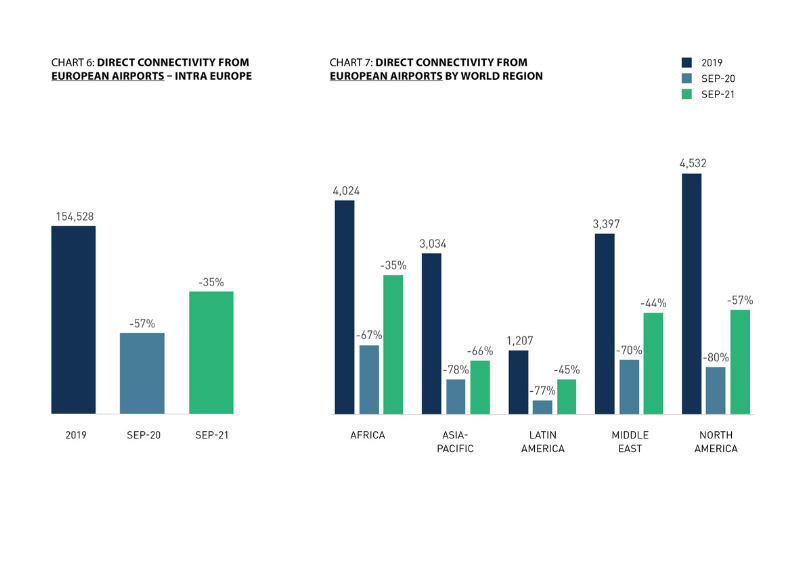 Europe's air connectivity to other regions of the world has remained very much depressed in 2021 and has not recovered to the same extent as air connectivity within Europe.
While direct connectivity within Europe was down by -35% in September 2021 against the 2019 benchmark, only direct connectivity to Africa had achieved a similar performance.
Direct connectivity to Asia Pacific remains the hardest hit at -66% (most of the region remained effectively closed to non-essential travel from Europe as of September), followed by North America still at -57%. Over the Summer months, the transatlantic market essentially remained a one-way market with many European countries open to vaccinated US visitors but the US being closed to European travellers. The recent announcement of the US Government re-opening to all cross border vaccinated travellers as of November should see direct connectivity from Europe to North America recovering further to levels equivalent to those of the intra-European market and Africa towards the end of the year.
Meanwhile, direct connectivity to the Middle East and Latin America has shown a better performance than North America.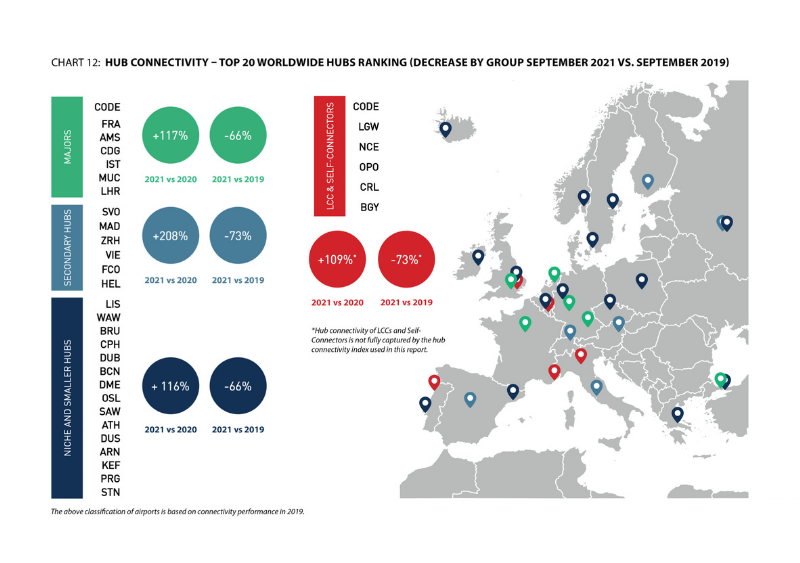 Amongst European hubs, secondary hubs and LCC hubs with self-connections have continued to underperform compared to major hubs and niche hubs. This is indicative of the extent to which airlines operating multi-hub networks have tended to retrench and consolidate operations at their primary hubs. It also reflects the fact that secondary hubs were in some cases serving overflow traffic from capacity/slot constrained primary hubs.
Find out more about the individual connectivity scores of airports in the Annexes to the Report.