Air connectivity
What is exactly air connectivity? How can it be measured? And how well connected is Europe?
In collaboration with Ferrovial, ACI EUROPE has released the Airport Industry Connectivity Report 2023. The report examines the developments in air connectivity amidst the ongoing effects of the post COVID-19 recovery pandemic and heightened geopolitical tensions, including the conflict in Ukraine.
Published yearly since 2014, these reports do not measure passenger volumes but the extent to which Europe's airports and their communities are connected to and accessible from the rest of our continent and the world – using a set of direct, indirect and hub connectivity indexes.
This year's edition also highlights how geopolitical tensions have impacted air connectivity, which is recovering slower than traffic volumes. The uneven recovery is evident across different geographies and airport markets.
Additionally, the climate emergency is raising questions about the societal value of air connectivity. While the aviation sector strives for net-zero air connectivity, policymakers and regulators play a vital role in facilitating this transformation. Still, even if progress has been made, it is not enough yet.
(Find out more about the individual connectivity scores of airports in the Annexes to the Report.)
Using the SEO NetScan connectivity model, the report provides indexes for direct, indirect and hub connectivity based on both quantitative and qualitative metrics. The airport connectivity index is made-up of both direct and indirect weekly frequencies, weighted by their quality. This means that this is not simply a measure of how many city pairs there are, or how many direct services there are. For the purposes of this report, connectivity is a composite measure of the number of destinations, the frequency of services and the quality of the connections (in the case of hubbing or indirect services). Let's begin by outlining the various types of air connectivity that airports facilitate. The following 4 definitions describe them and together they provide a qualitative and quantitative picture of how an airport links to the rest of the world.
---
TYPES OF CONNECTIVITY
Direct connectivity: These are the direct air services available from the airport – measured not just in terms of destinations, but also factoring in the frequency of flights to the same destination (so for example, an airport with 5 daily flights to another airport, will register a higher score than one with only 4).
Indirect connectivity: This measures the number of places people can fly to, through a connecting flight at hub airports from a particular airport. For example, if you fly from Cork to a hub airport such as Amsterdam Schiphol, that's a direct flight from to A to B. But with the vast choice of onward destinations you can fly to from there – the large number of available onward connections from these airports expands the range of destinations available from the airport of origin. Indirect connections are weighted according to their quality, based on connecting time and detour involved with the indirect routing. For example, a flight from Manchester to Johannesburg via Paris-Charles de Gaulle will register a higher score than an alternative routing via Doha.
Airport connectivity: As the name suggests, this is the most comprehensive metric for airport connectivity – taking into account both direct and indirect connectivity from the airport in question. Airport connectivity is defined as the sum of direct and indirect connectivity – thus measuring the overall level to which an airport is connected to the rest of the World, either by direct flights or indirect connections via other airports.
Hub connectivity: Hub connectivity is the key metric for any hub airport big or smaller. Essentially, it measures the number of connecting flights that can be facilitated by the hub airport in question – taking into account a minimum and maximum connecting time, and weighing the quality of the connections by the detour involved and connecting times.
---
Despite the WHO declaring COVID-19 no longer a global health emergency, air connectivity in the European airport network remains 16% below pre-pandemic levels. The performance gap between direct and indirect connectivity highlights shifts in the aviation market, with direct connectivity nearly recovering (-4%) while indirect connectivity lags behind (-22%). These patterns reflect the expansion of ultra-Low Cost Carriers and reduced presence of European Network Carriers, shaping the recovery dynamics.

Direct connectivity
IST | AMS | LHR on top
Fastest recovery at ATH | PMI | LIS | DUB & SAW
Weaker recovery in hub connectivity reflecting structural changes in aviation market and connectivity patterns
FRA, IST and DFW on top of global hub connectivity ranking

Significant hub shrinkage and downgrades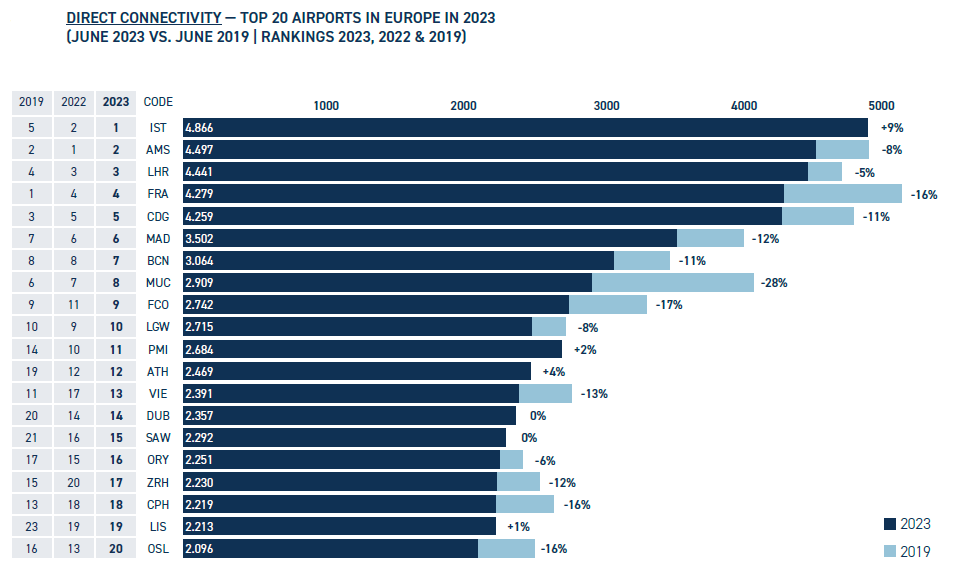 Hub connectivity is where we see the full value of air transport networks. For an airport with a wave of 10 flights leaving at 10.00 am, one additional flight arriving at 9.00 am increases its hub connectivity by 10, reflecting the onward connecting options for passengers arriving on that different flight.
Hub connectivity remains -25% below its pre-pandemic (2019) level this year and thus keeps significantly underperforming against direct connectivity (-4%) - despite the fact that most countries around the globe had lifted restrictions for cross border travel by the end of 2022. This points to structural changes in the aviation market, thus changing European connectivity patterns.

8 European airports are amongst the top 20 global airports for hub connectivity, along with 8 North American airports, 2 from the Middle East and 2 from Asia-Pacific.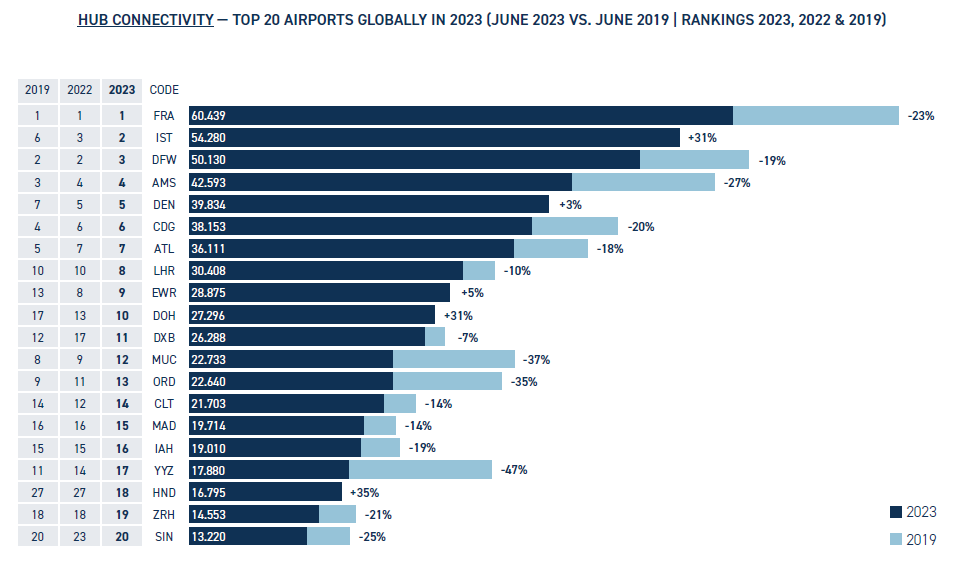 Frankfurt remains the top airport globally for hub connectivity – despite its hub connectivity remaining -23% below its pre-pandemic (2019) level. The airport has held the top position every year since 2009, except 2021. Istanbul (+31%) keeps its second position this year, having jumped from 6th in 2019. Dallas Fort Worth (-19%) holds the 3rd position.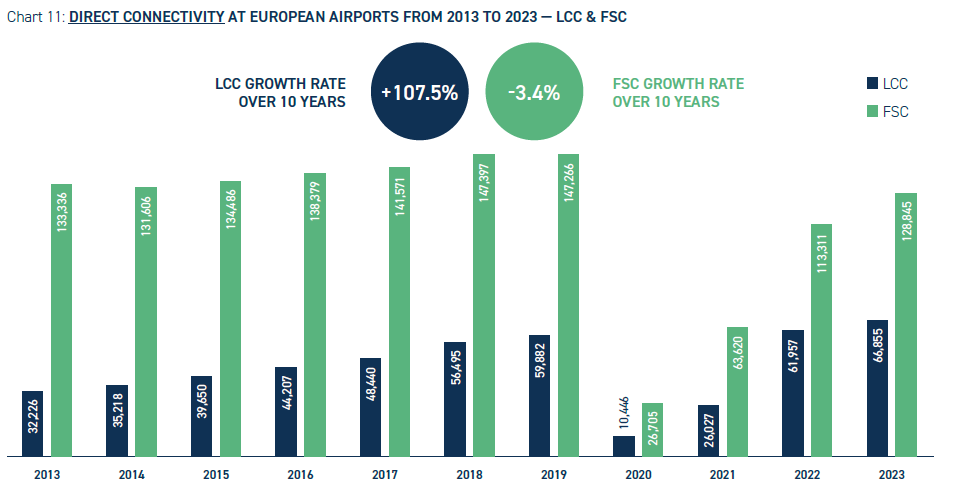 Over the past 10 years, Europe's direct connectivity gains (+18.2%) are coming entirely from Low Cost Carriers (LCCs, +107.5%) as a result of their dynamic expansion, and the decrease in the direct connectivity offered by Full Service Carriers (FSCs, -3.4%). But direct connectivity to Asia-Pacific (-52%) still remains less than half of what it used to be — predominantly due to the permanence of tight travel restrictions to China and other Northern Asian markets.
Overall, the largest hubs remain dominated by their home based network airlines with the highest direct connectivity market share being held by Turkish Airlines (79%) at Istanbul, followed by the Lufthansa Group at both Munich (73%) and Frankfurt (71%).
Independent LCCs hold the largest share of direct connectivity at Amsterdam-Schiphol (15%) and Paris-CDG (12%).
National markets
Continued performance variations, with Türkiye, the Western Balkans and countries relying on tourism/in-bound travel outperforming
Ukraine's total air connectivity erased – with international sanctions severely impacting Belarus and (to a lesser extent) Russia
Top 3 countries for direct connectivity: UK, Spain and Germany
While Greece was the only European country that had fully recovered its total air connectivity (direct + indirect connectivity) last year compared to pre-pandemic (2019) levels, a total of 5 national markets have now exceeded these levels. The best performances come from Türkiye (+19%), followed by Cyprus (+17%), Bosnia & Herzegovina (+8%), Albania (+7%) and Greece (+4%).