Air connectivity
What is exactly air connectivity? How can it be measured? And how well connected is Europe?
ACI EUROPE - in partnership with SEO Amsterdam Economics - has published Airport Industry Connectivity Report 2020 with the findings exposing the systemic collapse of the aviation network and air connectivity due to the COVID-19 crisis.
Published yearly since 2014, these reports do not measure passenger volumes but the extent to which Europe's airports and their communities are connected to and accessible from the rest of our continent and the world – using a set of direct, indirect and hub connectivity indexes.
This year's report highlights the harsh reality of more than 6000 air routes previously operated from Europe's airports still not being restored 9 months into the COVID-19 crisis.
Using the SEO NetScan connectivity model, the report provides indexes for direct, indirect and hub connectivity based on both quantitative and qualitative metrics. The airport connectivity index is made-up of both direct and indirect weekly frequencies, weighted by their quality. This means that this is not simply a measure of how many city pairs there are, or how many direct services there are. For the purposes of this report, connectivity is a composite measure of the number of destinations, the frequency of services and the quality of the connections (in the case of hubbing or indirect services). Let's begin by outlining the various types of air connectivity that airports facilitate. The following 4 definitions describe them and together they provide a qualitative and quantitative picture of how an airport links to the rest of the world.
Types of connectivity
Direct connectivity: These are the direct air services available from the airport – measured not just in terms of destinations, but also factoring in the frequency of flights to the same destination (so for example, an airport with 5 daily flights to another airport, will register a higher score than one with only 4).
Indirect connectivity: This measures the number of places people can fly to, through a connecting flight at hub airports from a particular airport. For example, if you fly from Cork to a hub airport such as Amsterdam Schiphol, that's a direct flight from to A to B. But with the vast choice of onward destinations you can fly to from there – the large number of available onward connections from these airports expands the range of destinations available from the airport of origin. Indirect connections are weighted according to their quality, based on connecting time and detour involved with the indirect routing. For example, a flight from Manchester to Johannesburg via Paris-Charles de Gaulle will register a higher score than an alternative routing via Doha.
Airport connectivity: As the name suggests, this is the most comprehensive metric for airport connectivity – taking into account both direct and indirect connectivity from the airport in question. Airport connectivity is defined as the sum of direct and indirect connectivity – thus measuring the overall level to which an airport is connected to the rest of the World, either by direct flights or indirect connections via other airports.
Hub connectivity: Hub connectivity is the key metric for any hub airport big or smaller. Essentially, it measures the number of connecting flights that can be facilitated by the hub airport in question – taking into account a minimum and maximum connecting time, and weighing the quality of the connections by the detour involved and connecting times.
Nine months into the COVID-19 crisis, more than 6000 air routes which were served from Europe's airports in 2019 remained discontinued – a 50% decrease.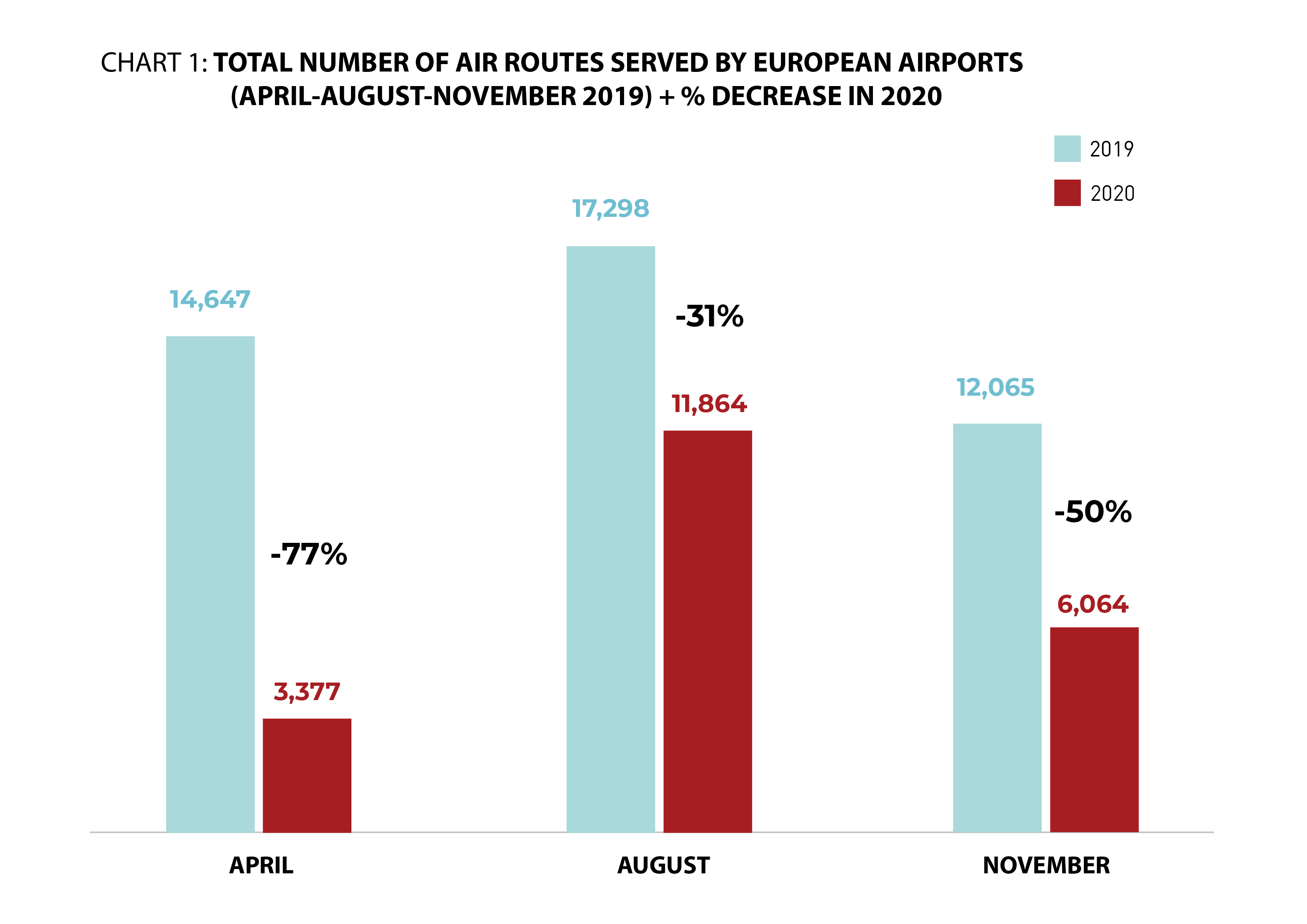 Direct connectivity recovered from the decimation of flights in April to around 45% of normal operations in August. However, by September, the recovery had ended, as airlines revised capacity offerings, based on lacking demand and renewed travel restrictions.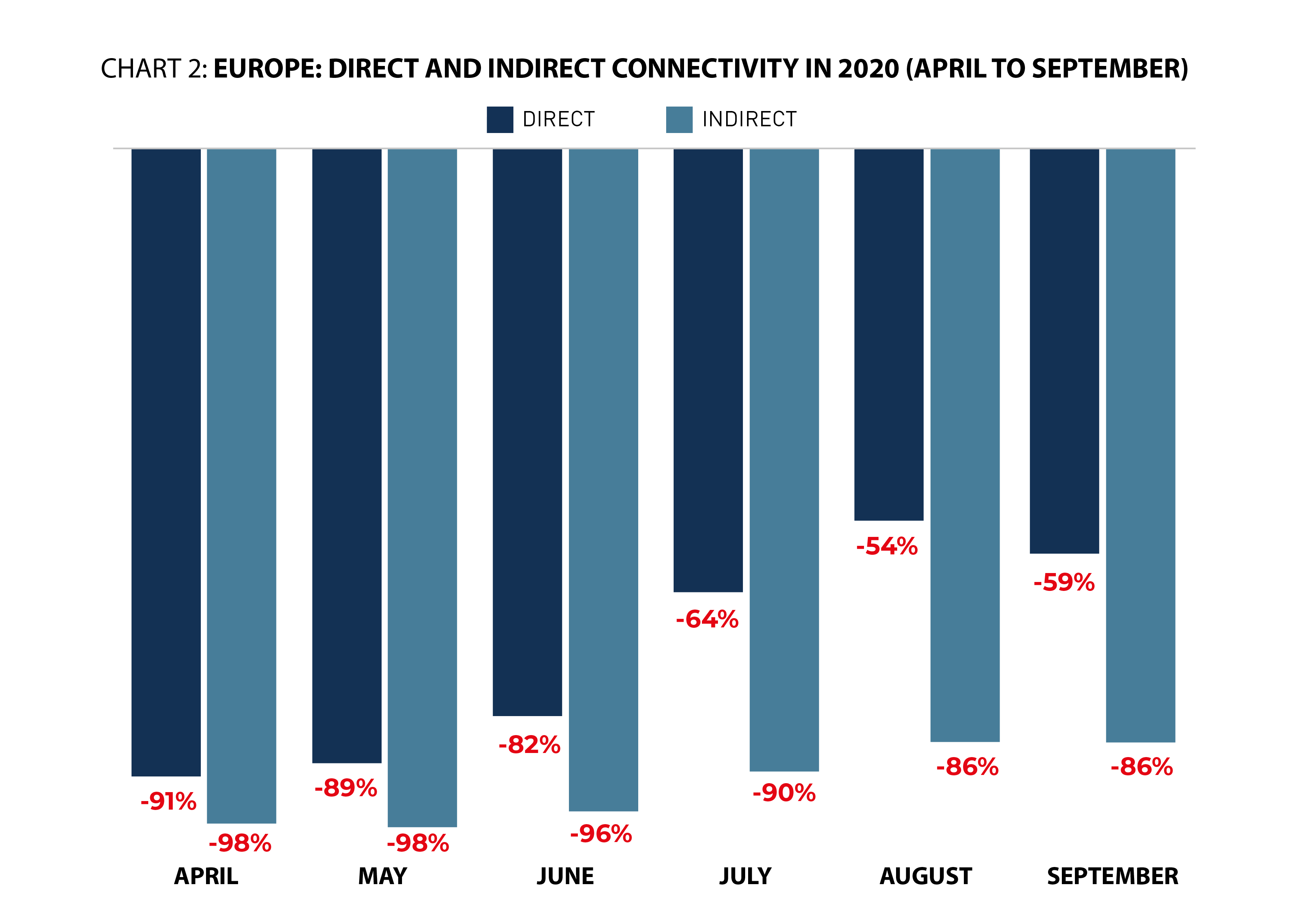 Even by September, following a tentative recovery over the peak summer months of July and August (as several governments had loosened travel restrictions and eased lockdowns while deploying test & trace systems), airports' direct connectivity remained fractions of what it was in 2019.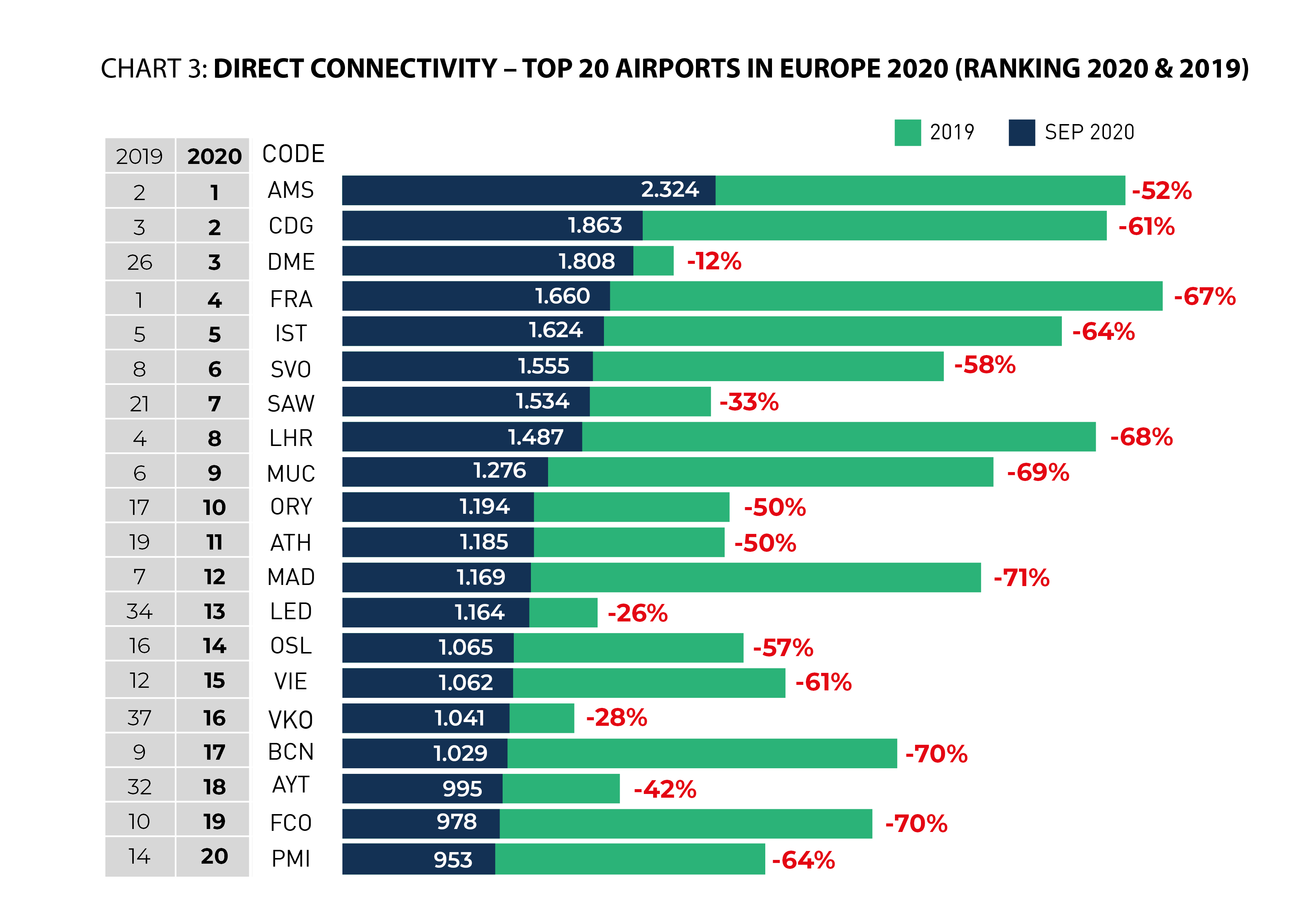 The weak recovery in air connectivity experienced over the peak Summer months was uneven in that it exclusively focused on the intra-European market - as short-haul flights and domestic flights resumed more quickly following the removal of local lockdowns and the partial easing of intra-European travel restrictions.
On the contrary, as restrictions to global/long-haul travel have remained consistently in place, air connectivity to other World regions has remained depressed – with direct connectivity to North America and Asia Pacific being the hardest hit.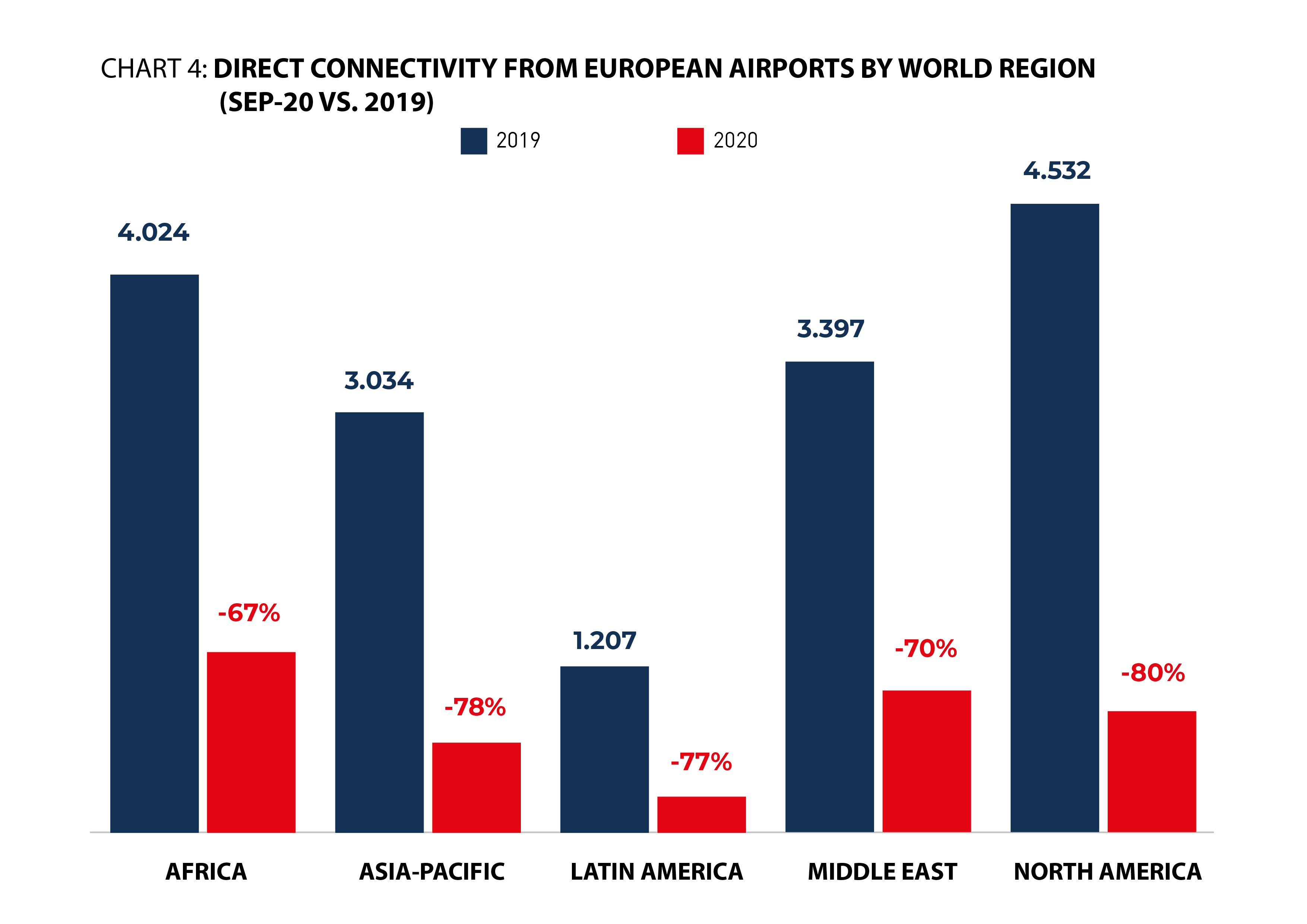 Individual hubs had widely different performance, reflecting primarily their exposure to government measures limiting travel as well as decisions taken by their based hub carrier over capacity deployment & routes. Amongst European hubs, secondary hubs have on average underperformed Major hubs and niche & smaller ones.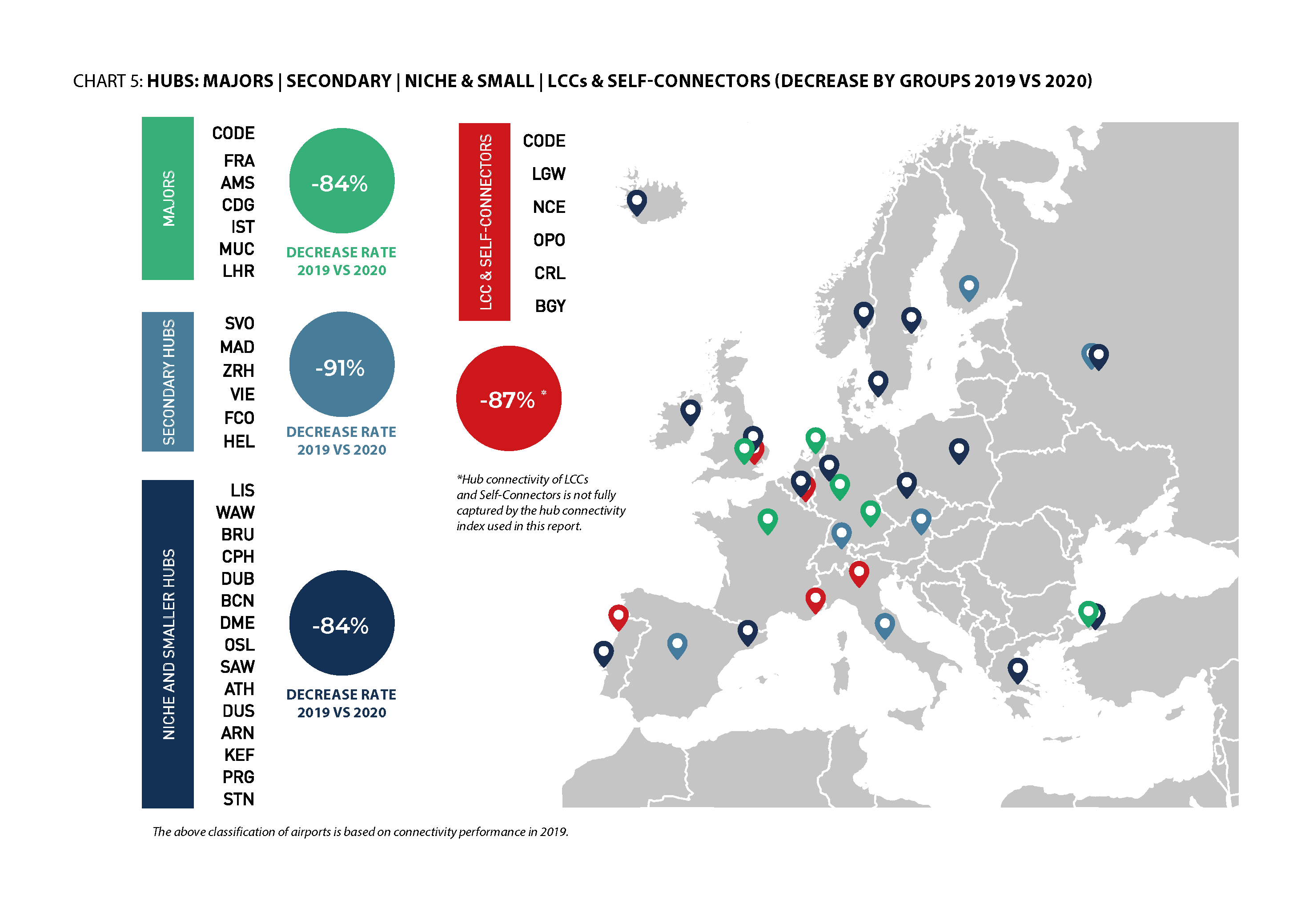 Find out more about the individual connectivity scores of airports in the Annexes to the Report.