Annual Congress & General Assembly 2022 - Key Highlights
ACI EUROPE held its 32nd Annual Congress & General Assembly on 22-24 June 2022 in Rome, Italy, hosted by Aeroporti di Roma. The event was attended by a broad representation of the global aviation industry with more than 300 delegates from 42 countries. During the event, ACI EUROPE has launched a number of far-reaching announcements and initiatives. Here below you will find the key highlights from the two-day conference.
OLIVIER JANKOVEC'S STATE OF THE AIRPORT INDUSTRY
Opening the 32nd ACI EUROPE Annual Congress and General Assembly in Rome, Director General Olivier Jankovec delivered his iconic State of the Industry address. In his thought-provoking presentation, he described an industry with a clear vision for its future societal and economic role – but fighting for the financial stability to get there.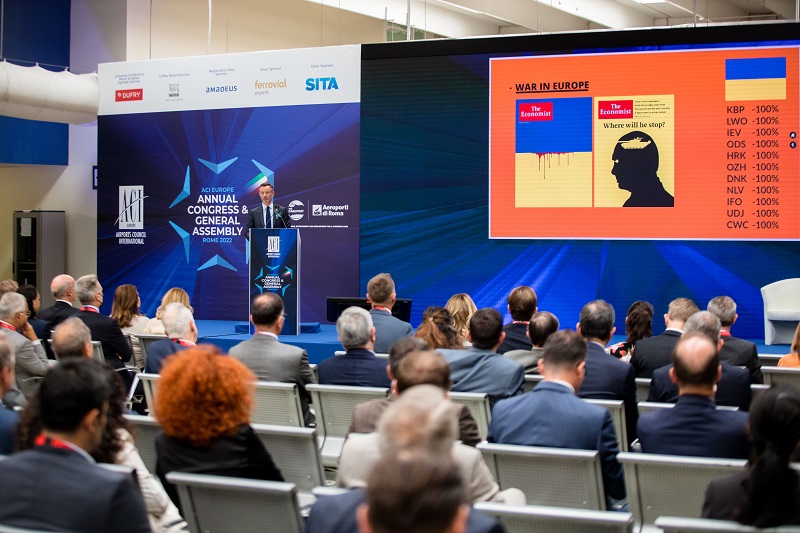 While passengers are returning to the skies this Summer, the traffic recovery for airports nonetheless remains revenue weak and cost intensive. Overall, passenger volumes remain below 2019 levels for most airports, with demand tending to be concentrated on peak periods. This not only puts significant stress on operations in the context of an acute staff shortage, it also drives costs upwards - with spikes in cash outflows.
At the same time, increased airport competition is exacerbating relentless pressures from airlines on airport user charges, with regulators still too often listening to airline allegations rather than letting airports address their legitimate and proportionate financial requirements.
AIRPORT INDUSTRY CONNECTIVITY REPORT 2022 POINTS TO UNEVEN AND INCOMPLETE RECOVERY
On the eve of its 32nd Annual Congress and General Assembly, ACI EUROPE has published the Airport Industry Connectivity Report for 2022, which revealed that the recovery of European air connectivity from the COVID-19 pandemic is uneven and still difficult. This reflects the combination of yet not fully lifted travel restrictions, the impact of the war in Ukraine and structural changes in the aviation market.
More than 2 years into the COVID-19 pandemic - and despite an upsurge in passenger volumes this Summer – total air connectivity across the European airport network still remains -29% below pre-pandemic (2019) levels. This means as of June 2022, air connectivity in Europe is back to where it was in 2009 – when the Great Recession hit.
Click on the cover below to download your copy.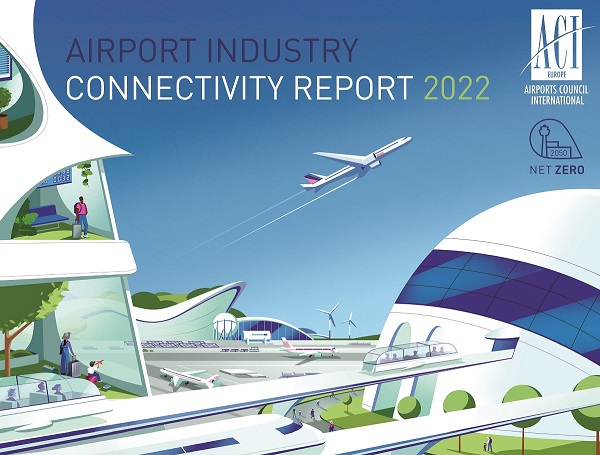 POLITICAL PLAYBOOK BY ACI EUROPE PRESIDENT, JAVIER MARIN FROM AENA
ACI EUROPE President Javier Marín called upon the EU Institutions, European Governments and regulators to work with industry so that aviation policy enables a strong and sustainable reset for the entire sectoral ecosystem. Speaking at the 32nd ACI EUROPE Annual Congress and General Assembly in Rome, Marín tackled issues as diverse as slot regulation, regional air connectivity, airport charges, decarbonisation and the handling of resurgent viral variants.
"It's time to connect the dots" he said, calling for more regulatory coherence to support a strong and sustainable aviation future.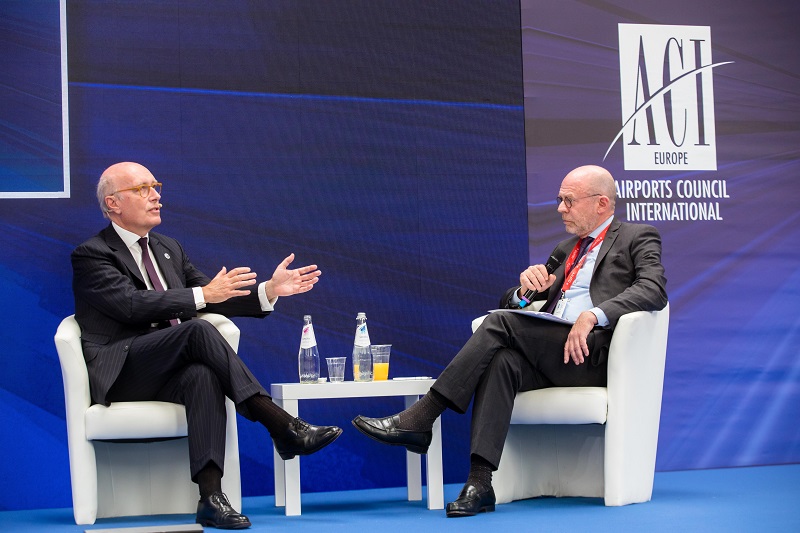 NET ZERO PROGRESS UPDATE
First launched in 2019 and firmly establishing its leading role in decarbonisation action, the ACI EUROPE Resolution on Net Zero Carbon Emissions by 2050 has been updated and reaffirmed during this year's Congress. The Resolution formally commits the European airport industry to become net zero for carbon emissions under its control by 2050 at the latest, responding to the Climate Emergency and aligning the industry with the Paris Agreement.
Said Jankovec "Since the Resolution was first made in June 2019, both committing the airport industry as a whole and over 200 airports individually, the number of our members signing up as individual businesses has increased by more than 60, now numbering over 270. Let's not forget this is a time period during which we were in the grip of a global pandemic. This speaks for itself".
As the number of airports individually committing to net zero targets increases, so does the number making their detailed plans public. Less than 9 months since ACI EUROPE launched its Public Repository of Airport Net Zero Roadmaps, laying bare for public scrutiny the specific plans taking airports to their net zero targets, the number of airports included in the repository has jumped from 119 to 146.
ACI EUROPE has also published further Guidance on Airports' Contribution to Net Zero Aviation - Reducing Scope 3 emissions and supporting the implementation of Destination 2050. The Guidance aims to provide airports with practical solutions to reduce Scope 3 emissions - in particular aircraft emissions - supporting the implementation of Destination 2050 and thus contributing to the achievement of net zero CO2 emissions by European aviation by 2050.
A groundbreaking Memorandum of Cooperation between ACI EUROPE and Airbus has also been unveiled during the event, facilitating the exchange of knowledge and best practice and raising airports' external credentials as regards hydrogen and electrification. The joint goal of the MoC is to accelerate the development of hydrogen-powered and hybrid-electric aircraft, prepare associated supporting airport infrastructure and bring these into the market.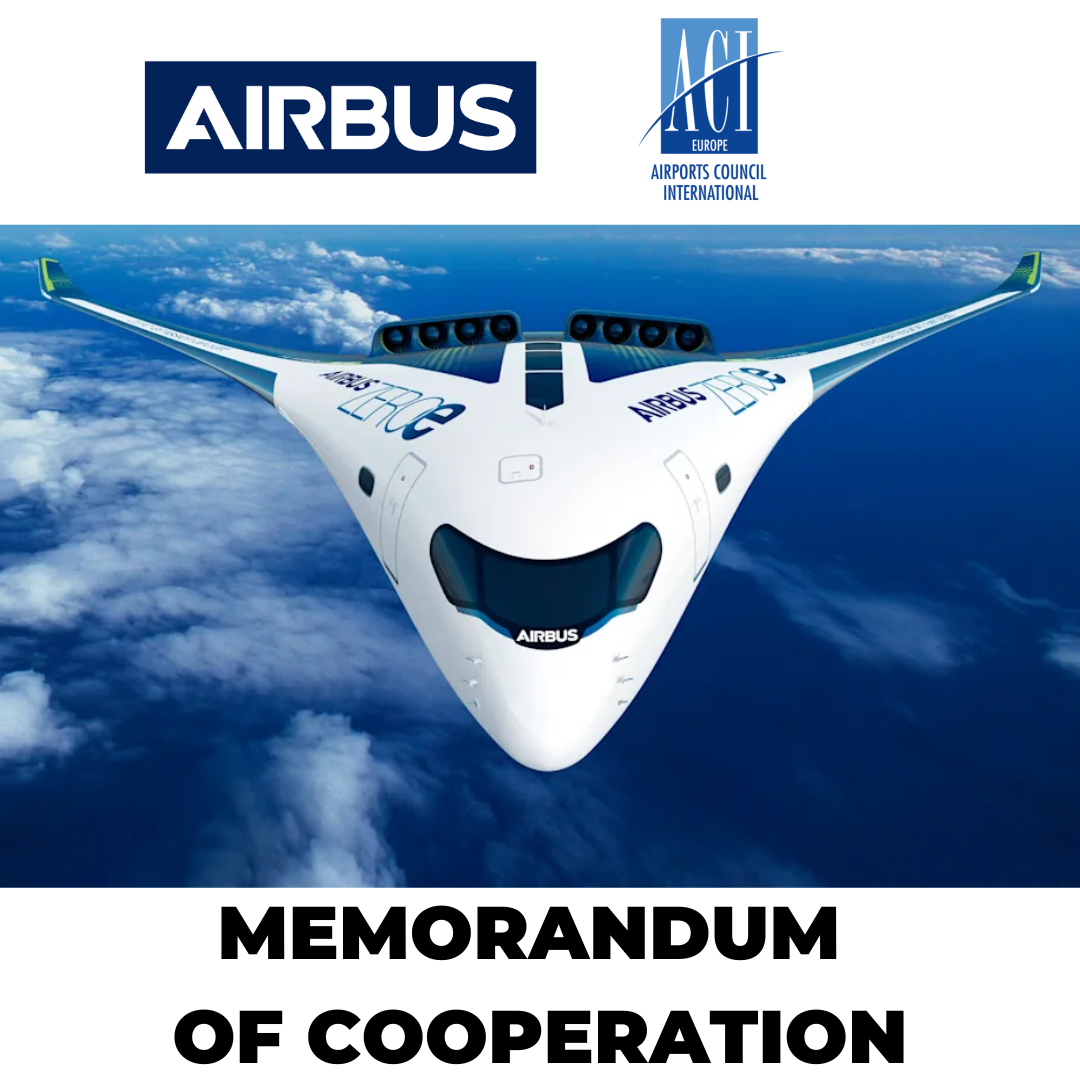 BEST AIRPORT AWARDS 2022
The Annual ACI EUROPE Best Airport Awards winners were announced during the Gala Dinner of the 32nd ACI EUROPE Annual Congress and General Assembly.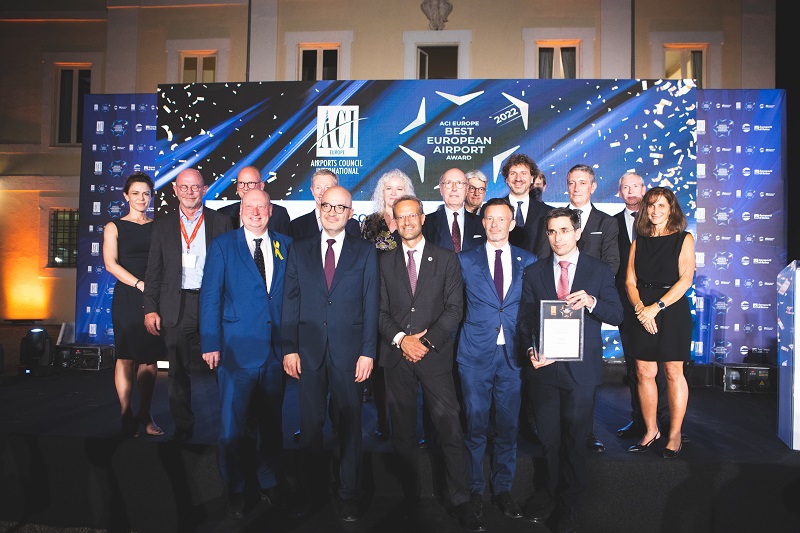 The Best Airport Awards recognise excellence and outstanding achievement across the entire portfolio of airport activities.
BEST AIRPORT IN THE UNDER 5 MILLION PASSENGERS CATEGORY
JOINT WINNERS: La Palma Airport and Torino Airport
BEST AIRPORT IN THE 5-10 MILLION PASSENGERS CATEGORY
WINNER: Valencia Airport
HIGHLY COMMENDED: Eindhoven Airport
BEST AIRPORT 10-25 MILLION PASSENGERS CATEGORY
WINNER: Porto Airport
BEST AIRPORT 25-40 MILLION PASSENGERS CATEGORY
WINNER: Vienna International Airport
HIGHLY COMMENDED: Athens Airport
BEST AIRPORT OVER 40 MILLION PASSENGERS CATEGORY
WINNER: Rome Fiumicino Airport
HIGHLY COMMENDED: iGA Istanbul Grand Airport
DIGITAL TRANSFORMATION AWARD in partnership with SESAR 3 JU
WINNER: London City Airport
ECO-INNOVATION AWARD in partnership with Airport Carbon Accreditation
JOINT WINNERS: Bristol Airport and iGA Istanbul Grand Airport
HUMAN RESOURCES EXCELLENCE AWARD in partnership with the ACI EUROPE Human Resources & Leadership Forum
WINNER: iGA Istanbul Grand Airport
WORLD BUSINESS PARTNER AWARD
WINNER: David Feldman, the Managing Partner at Exambela Consulting
SPECIAL AWARD
Emanuel Fleuti, Head of Sustainability & Environment at Zurich Airport
Read the full statement with the comments from judges.
ANNOUNCING NEXT YEAR'S ANNUAL CONGRESS HOST AND DATES
The 2023 ACI EUROPE Annual Congress and General Assmebly will take place on 26-28 June in Barcelona, Spain, hosted by Aena and co-organised with ACI World. Block these dates in your diary!